January Challenge: Your Best Foot Forward
Walk, Jog, Run into Achieving Your 2018 Fitness Goals
New month, new year, new challenge! You've already rowed and conquered pushups, so how about a little stroll for this Mind Body Soul's January Challenge. More specifically, a one-mile stroll? Yep, you got it.  Your assignment for the January Challenge is to hustle through 1 mile on foot as fast as you can. That means you can walk, jog, or run – so long as you cover the distance.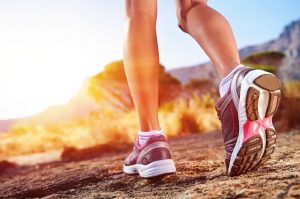 The Goal
Like all our challenges, the goal is to improve your performance over the course of the month and you can track those improvements by writing down your time on the dry-erase board in the AH or KW weight-room. And since we have 31 days in January, you have more than enough time to get better. 
But wait… there's more! Walk, Jog, Run into Achieving Your 2018 Fitness Goals
Pole to Palm and Back
Run and track your time wherever you want, but know that there's an unofficial one mile course on Patterson, just a block away from our headquarters. The start/finish line is the silver telephone pole across from Central Market (pictured below), and the .5 mile turnaround point is the large palm tree on your right. So: pole to palm, and back. Got it?

And to cover all the bases and keep things clear, if you choose to do your mileage on the treadmill, rather than the old fashioned way, just mark your time with 'TM' next to it. And if you're one of those folks who'd rather crank out laps at the track, mark your time with 'TR'.
Best Way to Improve Performance
As always, one on one work with one of our Personal Trainers will help improve performance faster whatever your fitness goals. Click here to get started if you aren't working with someone already. And to see all that Mind Body Soul Fitness offers, visit our homepage: www.mbsfitness.net.
Mind Body Soul Fitness is also participating in a January Challenge with The Good Kind by Tim the Girl lasting from January 8th through February 6th. This is probably the best way to upgrade your kickstart to fitness this year. In addition to a focus on getting active, it also involves the Whole 30 cleanse, a community of support to help you succeed. MBS Fitness is also offering discounts to Pilates, Yoga and Crossfit packages for participants. For all the details, please click here.
Alright folks, best get those shoes laced up and hit the road! Good luck!
Personal Trainer